Its that time again! Time for the Open Adoption
Roundtable
!
Before I post though, I also want to let you all know about an awesome project that Heather has put together - and I want to encourage you to sign up for it!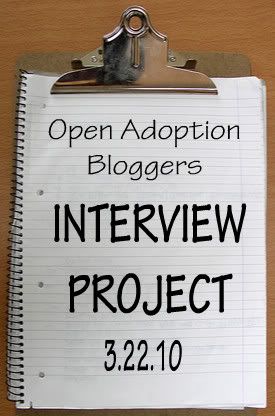 The Interview Project!
Everyone who'd like to join in will be paired with a fellow open adoption blogger. You'll have two weeks to get to know their blog and send them some interview questions by email. On March 22, you'll post the interview on your blog and your partner will post their interview of you. It's a double benefit to everyone who participates: you'll get to know a blogger better and introduce them to your readers, and your blog will be introduced to their audience. Hooray for networking and cross-pollination!
Now, just because you aren't currently on the
Open Adoption

Blogroll
doesn't mean you can't participate!! I confirmed it with Heather - anyone who has an interest in or connection to Open Adoption is invited to join in!
Which leads me directly to answering this months OAR question:
What does "success" mean to you, when speaking about open adoption?
Speaking specifically about open adoption as it relates to children adopted from foster care, I would first define success by the opening of a person's mind - even if you aren't able to open your heart. In traditional infant adoption, the "warm fuzzy" feelings for the first parents can feel very natural at first. That parent is "giving" you their child - and most adoptive parents have been waiting and struggling a long time to have a baby in their arms! I would imagine the positive feelings come pretty easy in the beginning. Even if you can't understand their decision, to part with their child - you are grateful that you will reap the reward of that decision!
But those initial feelings aren't usually present in an adoption from foster care. The first feelings about a child's parents aren't ones of gratefulness - they are of confusion, protectiveness, and even outrage on behalf of the children. If the child was placed as a foster child at first, and the adoptive parents have had to wait as the parents try to work their plans, those feelings can often become bitter and frustrated.
Occasionally, a parent will decide to surrender their rights - sometimes even specifically to the foster parents. This may help ease the negative feelings a bit. The foster parents may concede that, despite the past, the parents are now "doing the right thing for the child". This makes starting a relationship and maintaining some contact a little bit easier.
But when the courts have to terminate the parents' rights against their will - it makes the likelihood of a future partnership between birth parent and foster/adoptive parent even more strained. How do you establish any kind of openness in that situation? I'm sure many feel it is impossible - but its not.
Some states have "post adoption agreements" that are drawn up and filed with the court - but most don't or aren't actually enforceable. In reality, though they may offer some level of reassurance on both parents' parts, a piece of paper isn't going to be enough on its own to make a relationship between families work. If an agency is willing, a meeting can be arranged to facilitate some discussion between both parties. It may take time, and it will be imperative that the awkwardness be laid out on the table for everyone - no use ignoring the huge pink elephant in the room! Some agencies may even be willing to still host visits, or they may be able to offer a referral to a place that can help supervise any contact. If the child is not further traumatized by contact and the parents can all be appropriate - success can mean that the child has an ongoing relationship with their parents, the roles may change but the relationships doesn't have to!
But success isn't just achievable if visits are possible. Not at all!
Some children will not do well with regular visitation - the trauma is too profound or they need time to develop a strong attachment with their adoptive parents. At times, it is the biological parents who can not handle the contact - either because the wound is too fresh, the hurt too deep, or their own issues interfere. Perhaps even time or distance prevents regular face to face contact - especially for children who are adopted out of state. But phone calls can be made or letters can still be written and presents mailed - either directly to the child or through an intermediary. The child is able to reap the benefit of knowing that they were not unloved or forgotten by their parents - but the reduced intensity makes it easier for everyone to handle.
But what about for the child who can not handle any contact at all? Or the parent who refuses to be appropriate - or is even dangerous to the child? How can their be any successful openness for these children?
Then it relies solely on the adoptive parent. Hopefully they have some It becomes their job to bring up the biological family and to listen to what their children ask or say - even if those questions are hard or their memories difficult to hear. It is important that the adoptive parent not brush the child's first (or even prior foster families) under the rug.
In these circumstances, I would say that success is measured by how comfortable the child feels in bringing up these past relationships. They may not be willing or able to do it on their own at first. Perhaps they were adopted to young to really remember or express those memories. They may not be able to figure out how those blurry memories fit in to their current lives. They must rely on their parents to be proactive in helping them sort out those memories and the feelings they evoke. They can not be avoided!! I recommend starting from the youngest age and earliest moment in the relationship between adoptive parent and child possible.
For a great examples: Please read
this post by Mama K
. She is not the adoptive parent for Lil Man (age 4) - but she has already laid a wonderful foundation for him! She is helping him understand is past, while also preparing him for the future with his adoptive family. Even with absolutely no contact between the child and his first parents, Lil Man is
benefiting
from these discussions and it honors the relationship between him and his biological family. On the other end of the age scale -
Yondalla
often talks about the relationships between the teens in her care and their biological families.
Like in this post
which takes place just after a
TPR
for her foster son's biological father,
Yondalla
truly understands the importance of letting the child/teen form their own opinions and feelings about their birth families - and accepts that those opinions/feelings are going to waffle and wane over time.
THIS IS SUCCESS IN OPENNESS - that the child is ultimately able to freely explore, discuss, and one day maintain whatever relationship they choose with their birth families, knowing that they are secure and supported by the parents who raised them.
I know there are a lot of foster/adoptive parents who read this blog - and many of you have some level of openness with the parents of the children you've adopted. Maybe it isn't "fully open", maybe it is occasional contact or visits, perhaps it is no visits but information is shared or the door is kept propped open for the future. Whatever level of openness is working for you and your child! But I feel that there aren't enough of us talking about how to be open in our relationships after adopting from foster care. There is A LOT of stigma attached to these relationships and the circumstances regarding why the children were taken into care. But I know many people have been able to make it work - and the children reap the benefits!
If you are a foster/adopt parent who is working towards openness with the children in your home OR if you are social worker who promotes open adoption in your work, I would implore
beg
you to come sign up on the
Open Adoption

Blogroll
. And
participate in the

OA

Bloggers

' Interview Project
! Inform and encourage others about open adoption, even though it seems more delicate, daunting, or even impossible at times!